COVID19 RELIEF
GOAL: $10,000 - RAISED: $7,335
MEALS SERVED SO FAR: 47,136
INDIA: 29,036 - NEPAL: 9,600 - PAKISTAN: 8,500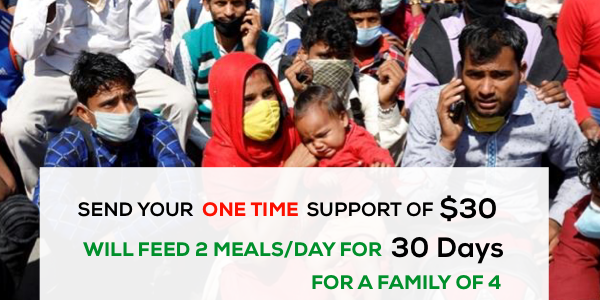 HOPE Kit (Food Supply Program)
food items and other essentail details
Rice/Wheat Flour
Water
Vegetables,Onions and Garlic
Lintels
Oil
Salt, Turmeric and Chilli Powder
Dry Food: Peanuts, Roasted split cheak peas
Soaps
Masks
Sanitary Pads
Effect of COVID19 on Migrant Families
Lockdowns, loss of employment, and social distancing prompted a chaotic and painful process of mass return for internal migrants in India.
The lockdown in India has impacted the livelihoods of a large proportion of the country's nearly 40 million internal migrants. Around 50,000–60,000 moved from urban centers to rural areas of origin in the span of a few days.
Beacuse of this chaotic situtation, everyone lost jobs, many struggle to find food, water and other basic needs, that leads the children and even adults to stay hungry. One way we can fight and stop the issuse of hunger and spread of COVID19 is to provide the nessary food supplies and other essentails like masks & soaps.